Ingredients
Sodium Palmate, Sodium Palm Kernelate, Water, Glycerin, Essence of Oatmeal, Oatmeal Flakes, Honey, Sodium Chloride, Pentasodium Pentetate.
Instructions
Um… wash yourself with it.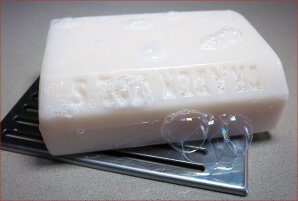 We've been on a bit of a soap kick lately, as we're on the lookout for more healthy bath and body products to replace some of the more questionable products we've been buying for far too long. Thankfully the options at TJ's are a bit of a no-brainer, as many of their their soap options hit the right balance between price and non-frightening ingredients. This product is no exception.
We particularly liked this soap because the fragrance is downright delicious. It has a faint, sweet honey and beeswax smell mixed with a tinge of oatmeal. It's really quite enjoyable, and importantly, it doesn't smell synthetic and it doesn't overpower.
We also like that the ingredients list is short and mostly understandable. We're not scientists, so we did have to look up some of the more foreign sounding ingredients, but thankfully what we found was understandable and mostly innocuous.
Here's a summary of our findings:
Sodium Palmate: a surfactant and emulsifying agent (i.e. key soap ingredient). Sodium Palmate is the end product of Saponification – the process whereby palm oil is treated with sodium hydroxide.
Sodium Palm Kernelate: also derived from the process of Saponification. Sodium Palm Kernelate is a sodium salt of the acids derived from Palm Oil (AKA palm kernel oil).
Sodium Chloride: salt.
Pentasodium Pentetate: an inorganic salt that binds metal, and inactivates metallic ions in order to enhance foaming and cleaning, and to prevent soap ingredients from remaining on your skin after use.
In addition to the mostly worry-free ingredients list, we appreciated that this soap was made without animal by-products or animal testing. We also liked how it didn't dry out our skin and washed away cleanly without residue. Plus, you simply cannot beat the price – we picked up a 2-bar pack and it cost roughly $1 a bar.
All told, we're fans of this soap. It's fragrance gives it a slight edge over Trader Joe's Tea Tree Oil Soap, and it's value is undeniable. We'll be back!
Review Overview
Summary : We simply loved the fragrance of this soap. The worry-free ingredients and undeniable value didn't hurt either!