Ingredients
Filling: Chicken Meat, Cabbage, Sugar, Cornstarch, Lemongrass, Green Onion, Soybean Oil, Ginger, Salt, Water, Modified Food Starch, Yeast Extract, Spices, Lemongrass Flavor.
Wrapper: Flour (Bleached Enriched Wheat Flour, Enriched [Niacin, Reduced Iron, Thiamine Mononitrate, Riboflavin, Folic Acid], Malted Barley Flour), Water, Soybean Oil, Soy Lecithin [Emulsifier], Salt.
Cooking Instructions
Keep frozen until ready to use.
Ovens vary. Cooking time and temperature may require adjustment.
Conventional Oven (for best results, do not microwave):
Set oven rack to top position.
Preheat oven to 450°F.
Remove appetizers from box and plastic tray; evenly arrange appetizers on baking sheet.
Place baking sheet into oven and bake for 10-12 minutes or until heated through (inside temperature of 160°F).
Add your favorite dipping sauce.
Deep Fry:
Preheat deep fryer to 350°F.
Cook appetizers for 3-4 minutes or until heated through (inside temperature of 160°F).
NOTE: ALWAYS USE OVEN MITS OR POT HOLDERS WHEN HANDLING HOT ITEMS.
Cooking Notes
These spring rolls came out of the oven a bit greasy, so we recommend rolling them on a cloth or paper towel to absorb some of the excess oil before eating. We did not try to deep fry these stix – seems like they'd come out far too unhealthy for our tastes.
Nutrition Facts
5 servings per container
Serving size
2 Stix (49g)
---
Amount per serving
% Daily Value*
Trans Fat 0g
Total Carbohydrate 10g
4%
Includes g Added Sugars
0%
Protein 5g
---
Not a significant source of vitamin D, or potassium.
---
The % Daily Value (DV) tells you how much a nutrient in a serving of food contributes to a daily diet. 2,000 calories a day is used for general nutrition advice.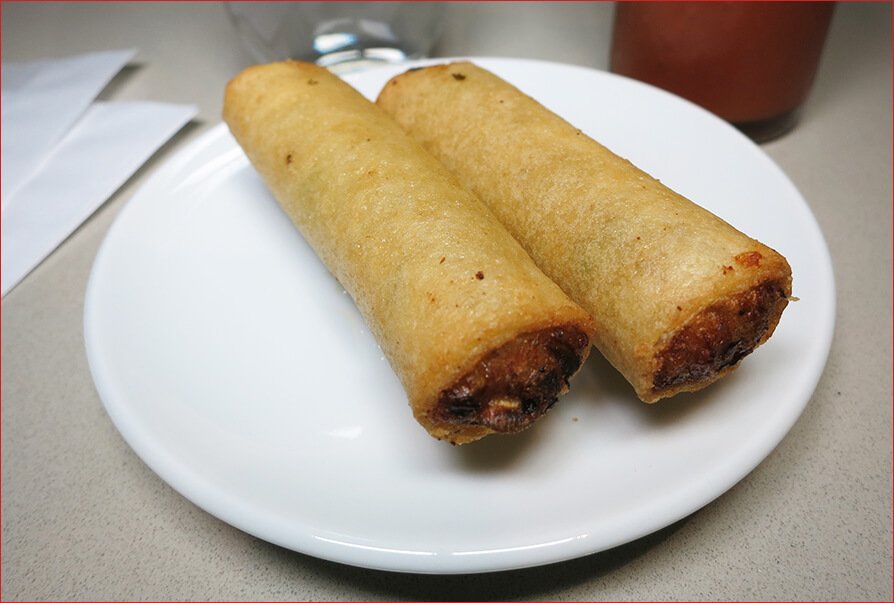 We love Thai food, but sadly we're not adventurous enough to try cooking it from scratch, and takeout is a luxury we can't always afford. So, lately we've taken the middle ground –  we've pillaged the frozen food section of our local Trader Joe's for some Thai treats that we keep on hand for our snack and dinner cravings.
You can't beat the value, and it's nice to be able to look at the ingredients and nutrition facts to keep track of what you're eating (try that at your local Thai restaurant!).
How do these Chicken Stix rate? The good news is they're quick to make, they have a good chicken flavor and the wrapper is crunchy and flaky. Also, there isn't much filler (i.e. it's not stuffed with cabbage) – it's all goodness.
We do have a few small gripes as well – most notably that the chunks of ginger in the filling can be a bit overpowering. We'd prefer finer pieces, resulting in a more subtle ginger flavor. Thankfully some dipping sauce (e.g. Trader Joe's Duck Sauce) helps to mellow it out bit.
As with most spring rolls, these tend to get a bit oily, so you'll probably want to roll them around on a paper towel before serving. Also, they are quite tiny – a little over 3″ long and the thickness of a nickel. Not necessarily a bad thing, but worth noting (in other words, good luck sticking to the "2 stix" serving size!).
Overall, we like these Lemongrass Chicken Stix – they're quick and easy and make for a good appetizer or side dish. We'll definitely buy them again.
Review Overview
Summary : Even though they come out a bit oily, and the chunks of ginger in the filling can be a little overpowering, we really like these Lemongrass Chicken Stix for a quick and easy Thai treat.