Ingredients
Ham: Bone In Ham, Water, Turbinado Sugar, Vinegar, Kosher Salt, Molasses, Celery Powder, Spices.
Glaze: Evaporated Cane Syrup, Spices and Canola Oil.
Cooking Instructions
Heating the Ham:
Note: Ham is fully cooked – do not over bake!
Preheat oven to 275°F.
Take a deep roasting pan and place the ham, face side down, and then cover.
Heat the ham for 12-15 minutes per pound (to approximately 120°F internal temperature), or until the desired temperature is achieved.
Preparing the Glaze:
Take a small sauce pan and combine the provided glaze packet with 1/4 cup of water.
Place the sauce pan onto a stovetop burner set to medium heat.
Stir the mixture continuously until the entire spice packet has dissolved into the water.
Remove from heat and cool.
Glazing the Ham:
Preheat the oven to 475°F.
Baste the warmed ham with the previously prepared and cooled glaze.
Once the glaze has been applied to the whole ham, place it into the preheated oven, uncovered.
Heat the ham for 7-10 minutes or until the glaze is crystallized.
Allow the ham to cool to the desired serving temperature.
Cooking Notes
We found that more time was needed to reach an internal temperature of 120°F, but we opted for a lower temperature vs. drying out the ham.
Regarding the glaze instruction about stirring the mixture "continuously until the entire spice packet has dissolved" – because there is white pepper and ground cloves, etc. the spices will never FULLY dissolve, but a few minutes of stirring is all you need.
Regarding the glazing instructions, unless you have 2 ovens (we don't), you would theoretically have to keep the ham out of the oven for 10-15 mins until your oven temperature preheats from 275°F (the ham cooking temperature) to 475°F (the glazing temperature). Letting the ham cool during that time seemed counterintuitive to us, so we let the oven preheat only as long as it took us to glaze the ham. Then we cooked at 475°F for 10 mins and everything worked out perfectly.
Nutrition Facts
Varied servings per container
Serving size
2 Ounces (56 Grams)
---
Amount per serving
% Daily Value*
Trans Fat 0g
Includes g Added Sugars
0%
Protein 13g
---
Not a significant source of vitamin D, or potassium.
---
The % Daily Value (DV) tells you how much a nutrient in a serving of food contributes to a daily diet. 2,000 calories a day is used for general nutrition advice.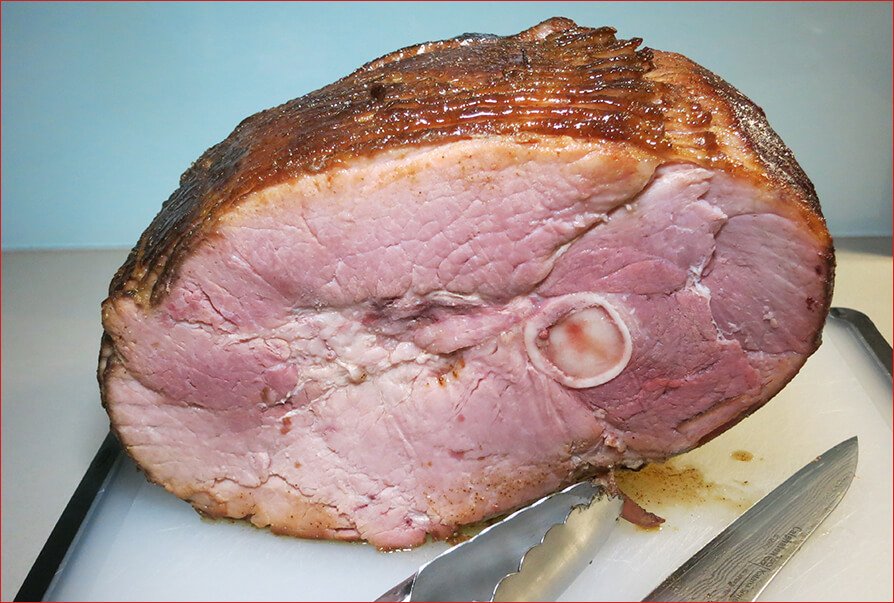 We love the Christmas holiday season. It's the perfect time to reconnect with friends and family, and, of course, there's so much festive food to enjoy.
In our opinion, when the nights grow long and the air gets chilly, nothing brings out the holiday spirit like a roasted ham for dinner.
This year was the first time we tested a ham roast from TJ's – usually we opt for one of our tried-and-true online purveyors. But you can't beat the in-store convenience, and this ham has all the right attributes: uncured (i.e. no nitrates), no antibiotics, no hormones and never fed animal by-products.
It's also priced right – at $4.99 per pound. (Even though there's a sizable bone included, it's a deal)
We ended up snagging the last Spiral Sliced Ham from our local Trader Joe's, and it was a beast – weighing in at 10.57 lbs. Much more than we needed, but who doesn't love leftovers?!
So, what did we think? For some reason, we had low expectations, but we dead wrong – this ham was delicious! It may very well have been the best Spiral Sliced Ham we've ever cooked! It was tender, not overly salty, and very flavorful – with a touch of sweetness.
One criticism: the spiral cuts only went down about 1″ into the ham, so it was more "spiral scored" than it was "spiral sliced". It actually made it harder to cut. But we're thinking this was actually a mistake, and that other TJ hams had their slices all the way to the bone (feel free to weigh in if you've experienced the same).
All told, we're definitely fans of this Uncured Ham, and we'll be back next year for our holiday feast. As for now, we're looking forward to a few weeks worth of ham and eggs, ham sandwiches, and whatever else we can think to cook up with the leftovers (recipes welcome!).
Review Overview
Summary : This Uncured Ham was a pleasant surprise. It was tender, not overly salty, and very flavorful - with a touch of sweetness. The perfect Christmas treat!