Ingredients
Bananas, Sulfur Dioxide (Added for Freshness).
Nutrition Facts
About 3 servings per container
Serving size
2 Pieces (40g)
---
Amount per serving
% Daily Value*
Trans Fat 0g
Total Carbohydrate 31g
11%
Includes g Added Sugars
0%
Protein 2g
---
Not a significant source of vitamin D, or potassium.
---
The % Daily Value (DV) tells you how much a nutrient in a serving of food contributes to a daily diet. 2,000 calories a day is used for general nutrition advice.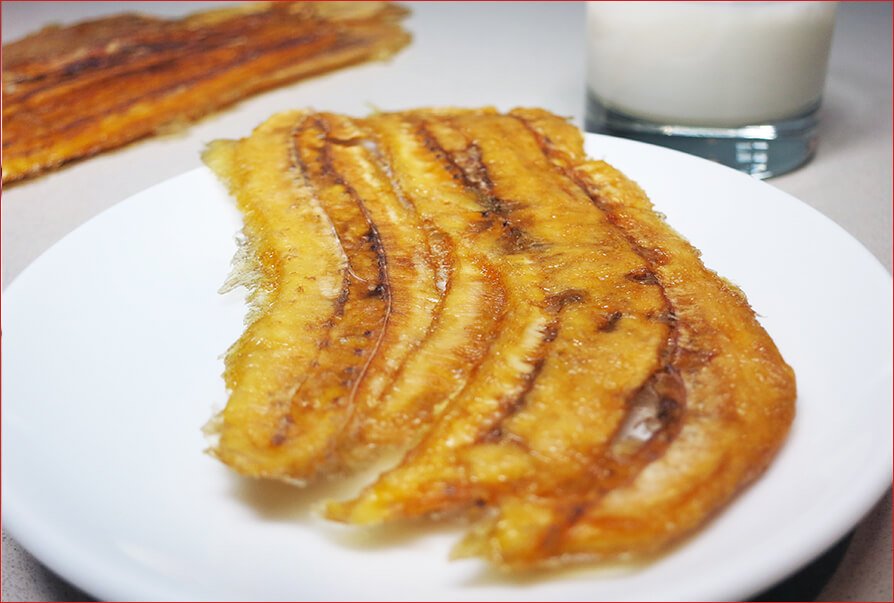 Trader Joe's has an amazing dried fruit and nut section. The options are endless, and if we're being honest, there's plenty of stuff we've never heard of (Jackfruit??) – but are still dying to try.
Case in point, amongst the staples like dried pineapples, raisins, prunes, and pumpkin seeds, we found a package of Dried Flattened Banana. We weren't quite sure what to make of this product – it looks kind of like melted bananas that have been left out for too long.
Sure, we've had dried banana pieces before, but we've never seen them packaged like this before – cut lengthwise and mushed up together. But, heck, we'll try anything once!
Presentation aside, these were a treat – and definitely a worthwhile purchase.
Turns out the long banana slices (mostly) peel apart cleanly, so you've got a bunch of flat, thin banana fruit roll ups. In terms of their taste, they are a bit overripe, but you probably can't dry bananas and maintain that perfectly ripe banana taste.
As with most dried fruits and nuts, these make for a great, healthy snack, and would be perfect in the classroom, on the trail, or on the road (as long as the driver has someone to pull the slices apart – safety first!). We rate this item a solid buy – we'll definitely be back!
Review Overview
Summary : Though we weren't initially sure what to make of these dried flattened bananas, we found them to be tasty and fun to eat. We'll definitely be back!